Have You Seen Grandeur at its Best?
If you are looking for a neighbourhood that combines serenity and grandeur so elegantly, then the Cubiq Residence is for you.
With an exclusive 18 units of detached duplexes, these homes speak subtly of high-class and lavish ROIs. Whether you're looking for a luxurious starter home or a spacious property for a large family, the Cubiq has it all.
Homes in the Cubiq Residence boast five large bedrooms (all en-suite), an expansive living area, a private living room, and a large chef's kitchen. They also have a three-car garage, two-room service quarters, and sizable landscaping area for your custom home features and these homes as well pride in enthralling aesthetics you won't find anywhere else.
A Tranquil Oasis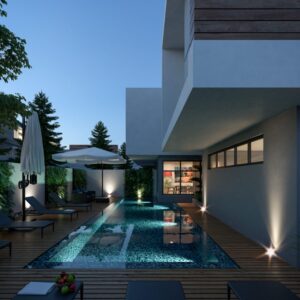 The residence is structured to satisfy your neighbourhood desires, from jogging trails to a recreational centre featuring a large swimming pool, a lush garden, a clubhouse, a mini-animal park and a multi-purpose sports arena. The idea is to soothe and invigorate you as occasion demands.
Gem in the Pearl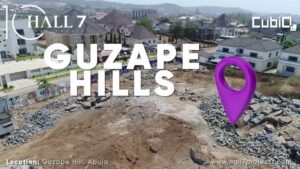 Located in the Pearl of Abuja, Guzape Hills, Cubiq Residence is carefully constructed with the Investor's overall comfort and
well-being in mind. The neighbourhood is
quiet, safe, and family-friendly. The residence is conveniently
situated near all the city's major landmarks and thrill spots. Plus, with quick access to main highways
and transportation networks, it's easy to get wherever you need to go.
Special Offer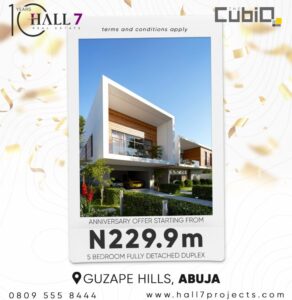 In commemoration of our decade-long anniversary, we are giving you an unparalleled opportunity of owning your own Cubiq Duplex.
With only 8 units available for this offering, and starting at a PROMO PRICE OF N229.9 MILLION, wouldn't you rather take advantage of this opportunity now?
Our investment advisors are primed and ready to take you on a tour. Schedule a site visit by sending a message to 0809-444-8555.
🗾 Location: Guzape Hills, Abuja
💰 Investment amount (Anniversary Offering): N229.9m

Don't miss out on this limited-time offer.